Different Types of Indian Traditional Dresses and Jewellery by States
India is a melting pot of cultures. With a kaleidoscopically rich fashion and style statement, the country has a variegated dress code. The diversity in faith, culture, religion, and tradition is visible through multiple elements such as food, art, language, festivals, etc.
Dresses and clothing coupled with jewelry are one of the significant elements of distinction as well as unity in India. Here is all you need to know about the types of dresses and jewelry across different states of India.
1. Assam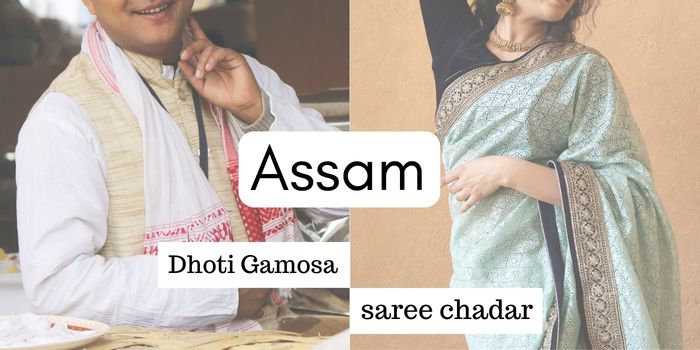 The traditional dress of Assam is Dhoti Gamosa for men and saree chadar for women. It is a traditionally rich state and the sarees worn by women are mostly the Assam Silk. Out of these, the Muga Silk is the rarest and most expensive one with a unique weaving design.
The states of the northeast are extremely close to nature and their style accessories reflect handmade crafts like the Jonibri or Gamkharu which are traditional handmade bracelets. Pigeons are quite sacred in Assam and many of the dresses and jewelry are inspired by them termed Loka Paro.
Assam Traditional Dress for Men – Dhoti Gamosa
Assam Traditional Dress for Women – Saree Chadar
Traditional Jewellery – Jonibri or Gamkharu
2. Jammu and Kashmir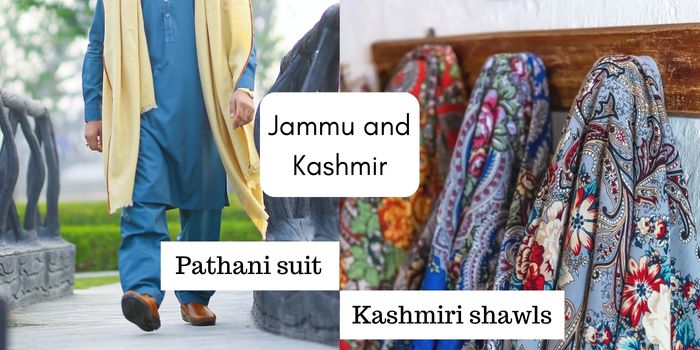 The state has a very unique and pristine culture of its own just like the natural scenic beauty. The men in Kashmir wear Pathani suits while the women also wear suits unique to Kashmir.
The unisex head tunic called Pheran is an integral part of Kashmiri clothing. Kashmiri dresses feature intricate embroidery work.
Kashmiri shawls and their fabulous handwork are celebrated globally. The traditional Kashmiri dress code involves wearing a lot of jewelry especially long earrings called Dejhor. Pashmina shawls are the pivotal fashion icon of Kashmir – as beautiful as expensive.
Jammu & Kashmir Men's Traditional Dress – Pathani suit brands
Jammu & Kashmir Jewellery – Dejhor
3. West Bengal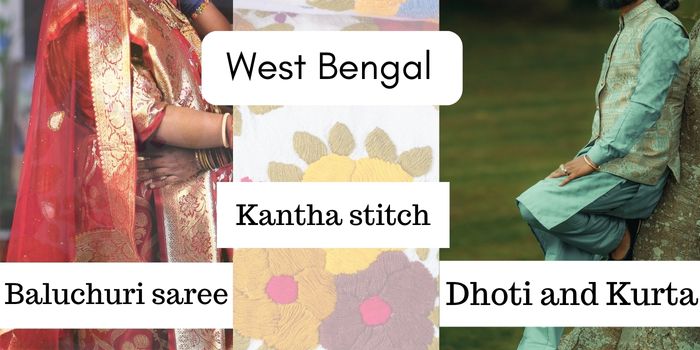 The state with the most happening Durga Pujo, misti doi, and lovely people centered around literature and Rabindranath. The traditional dress of women in West Bengal is saree – Kantha stitch, cotton tant saree, silk Baluchuri saree.
The men's traditional wear in Bengal is Dhoti and Kurta. Jewelry in Bengal is mostly preferred in Gold types. The terracotta jewelry of Bishnupur in West Bengal is a well-celebrated jewelry type. Red and white is the most preferred color combination in West Bengal.
Dress – Baluchuri saree for Womens and Dhoti and Kurta for Mens
Jewellery – Terracotta jewellery
4. Uttar Pradesh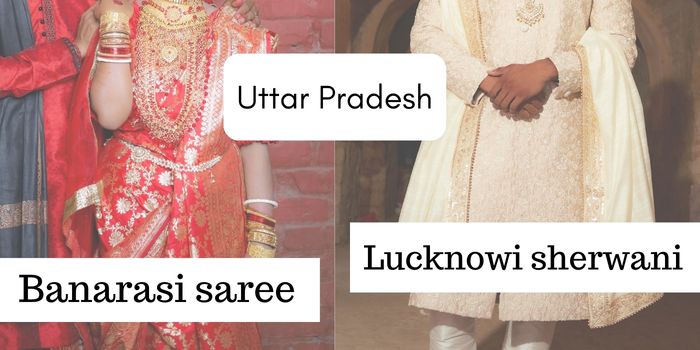 The birthplace of the Banarasi saree, this province reflects the true glimpses of Mughal India – the Lucknowi Sherwani Brands and the zardousi.
The intricate zari and embroidery work mostly on the Mughal motifs is one of the most celebrated dresses in India. Uttar Pradesh is also known globally for its Chikankari work. Jewelry of Uttar Pradesh reflects aristocratic royal vibes like the ones worn by Aishwarya Rai Bachchan in the movie Jodha Akbar.
Dresses – Banarasi saree (Women) And Lucknowi sherwani, zardousi for Men
Jewellery – Chikankari work
5. Gujarat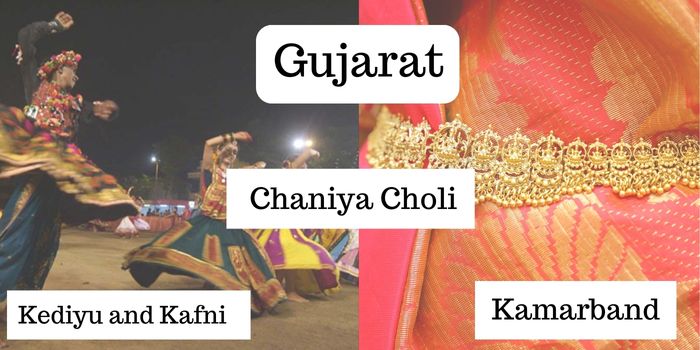 If you have been a fan of the movie Ram Leela, you must have loved their attire. The dress code of Gujarat is anything but simple. Gujarati fashion is celebrated and distinguished because of multiple reasons.
It is colorful and engrossed with top-notch high-end heavy embroidery work with a special focus on the use of mirror work.
For men, the Kediyu and Kafni combination is common and it looks the best. For females, the Chaniya Choli combination is the best. Gujarat is the textile capital of India and also the birthplace of stylish sarees like Patola.
To combine with the dresses – Gujjus wear Bangles, Kandola, Kamarband, and Matha Tikka. Gujarat is also famous for its Pearl and Kundan jewelry.
6. Odisha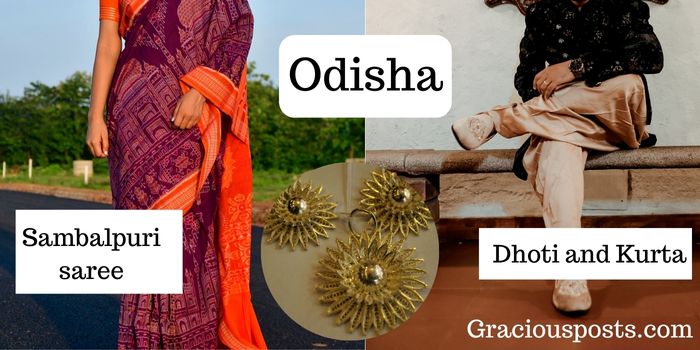 Odisha is situated just by the coast and the dress as well as top 10 jewellery brands of this region reflects an influence of the sea. The men in Odisha traditionally wear Dhoti and Kurta whereas the women mostly wear Saree.
Ikkat sarees are the best product of Odisha fashion. It is also known globally for the Sambalpuri sarees which is an old craftsmanship of India, yet alive in complete thrive.
The silver jewelry also called Tarakasi work is extremely popular in Cuttack. It also includes sea sheel work.
Dresses – Dhoti and Kurta for Men and Sambalpuri saree for Women
Jewellery – Tarakasi work
7. Maharashtra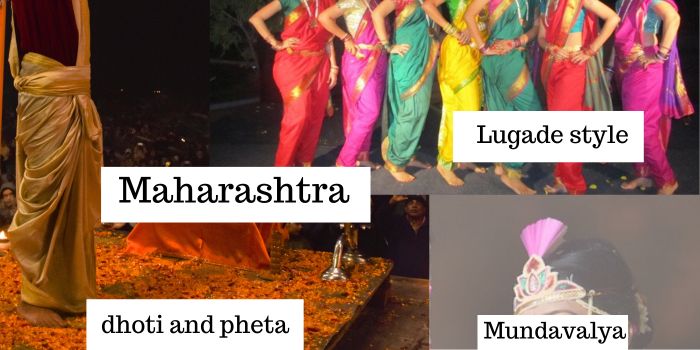 Traditional Marathi culture involves the men wearing kurta dhoti and pheta and the women wearing gorgeous Pathani sarees with broad pallu and border.
The Marathi womenswear sarees in a distinct dhoti style also called the Lugade style. The Marathi style is mostly about the intensive use of colors and vibrant designs – loud and full of zari.
The Marathi fashion contour is all around extremely colorful and vibrant jewelry and most importantly the Nath or nose pin. Tushi, Guchhed Nath, Bangadi, and Mundavalya are some of the jewel pieces.
The vibrant look in Maharashtra depicts wealth, prosperity, and happiness. Gold is the primary jewel metal used for Marathi jewelry.
Dresses for Women – Pathani sarees with broad pallu and border
Dresses for Men – kurta dhoti and pheta
Jewellery – Marathi jewelry
8. Kerala
Kerala is one of the most ethnically and traditionally rich states in India. Men wear Mundu and women wear sarees. Usually, the traditional combination for both genders is a white saree or mundu with a border of golden zari.
There is vibrancy in the colors for sarees and other attires, however, pastel shades are also in fashion. Kerala's style statement depends a lot on the use of gold.
The most interesting fact is that Kerala's jewelry is inspired by nature. For example, the gold Kolusus or anklet, or the Pallaka Malawhich is an elegant gold chain made on the motive of leaves. Gemstones like benefits of wearing ruby and emeralds are also in use.
Kerala Mens Traditional Wear – Mundu
Kerala Womens Traditional Wear – kaithari
Jewellery – Pallaka Malawhich
9. Rajasthan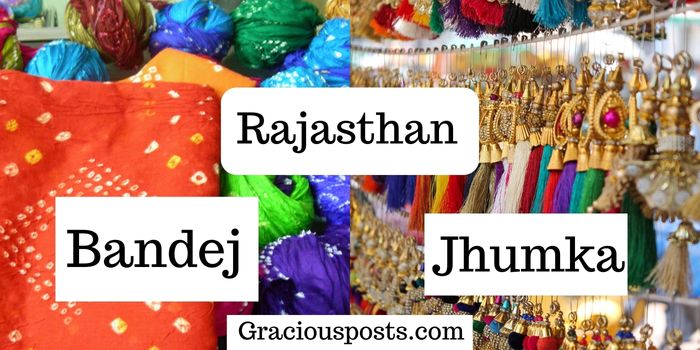 When it comes to royalty and vibrancy, nothing can beat the style statement of Rajasthan. The Rajasthani culture and fashion trends are extremely colorful and vibrant. Kota Doria and Bandej are two of the most exclusive fashion styles in famous indian saree brands having emerged from Rajasthan. Whereas mens wear dhoti and angarkha, or pyjama-kurta
Also, the use of Lehriya (ocean waves) is extremely prominent in Rajasthani culture. The golden and kundan bridal gears with exquisite use of gemstones are popular in Rajasthan.
The accessories make the bride look elegant and pretty. Karnaphool, Jhumka, and Haath phool are some of the traditionally fancy jewelry that adorns women.
Womens Dresses – Kota Doria and Bandej Saree
Mens Dresses – dhoti and angarkha, or pyjama-kurta
Jewellery – Karnaphool, Jhumka, and Haath phool
10. Tamil Nadu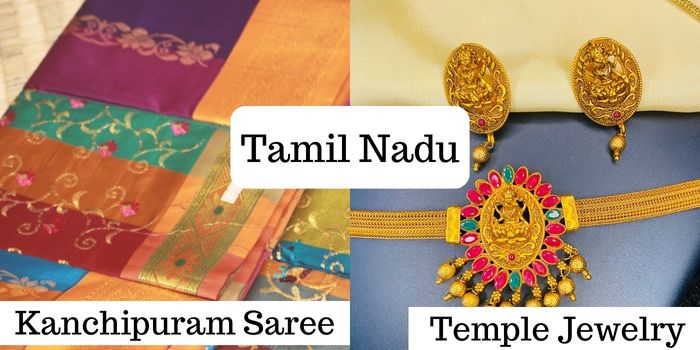 When we talk about Silk, south Indian silk like Kanchipuram is the first to cross our mind. The city of temples, Tamil Nadu has a rich cultural tradition of dressing encompassing myriad silk like Madurai cotton and silk or the Kanchipuram silk. The jewelry worn in this region is mostly gold Jewellery buying guide and temple jewelry.
India truly has the most diverse fashion.