How To Wear a Mandarin Collar Shirt?
Have you heard of suiting up?
What if we told you that "collaring-up" gives your styling dimension?
If done correctly, it can be the difference between being well-dressed and stylish.
The name of the style alludes to the Mandarins' imperial Chinese robes from which it took its Western name, but a related design known as the Nehru collar has also been seen in some contemporary Indian men's attire. It is essentially a slimmer collar band with no collar or folded blade.
How to Style a Mandarin Collar Shirt?
Whatever the occasion, whatever the hue, from denim blue to plain white, a Mandarin collar for a custom dress shirt is unquestionably one of the essential components of a summer male wardrobe. The easiest way to face the heat without sacrificing a thread of style.
The versatility of how to wear a mandarin collar shirt is as follows:
1. Mandarin Collar Shirt With Blazer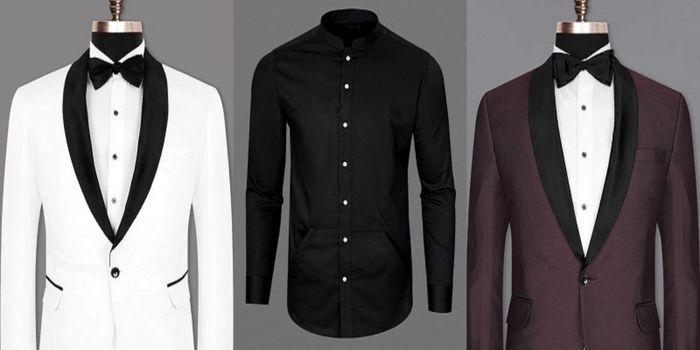 The mandarin collar shirt and blazer perfectly fit a luncheon or casual party. It pairs oh so perfectly with a casual blazer. Pair it with casual dark denim rolled at the ankles and sneakers and you are good to go! Please ensure the shirt hem is higher than the blazer hem; it should not be longer. To get this trendy smart-casual style, you could keep it tucked out.
2. Mandarin Collar Shirt With Jeans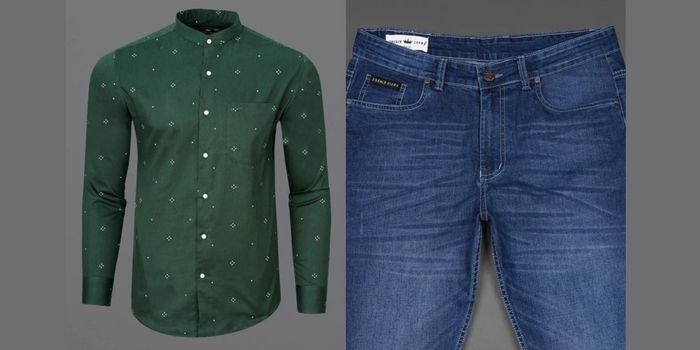 It's all about how you want to carry this shirt styles itself. It gives quite a formal appearance when tucked in with dark-colored jeans and a cool-casual look when tucked out with regular-fit jeans. Always leave the top button undone! At best, unbutton the top two to three buttons for a more casual look.
3.Mandarin Collar Shirt With Shorts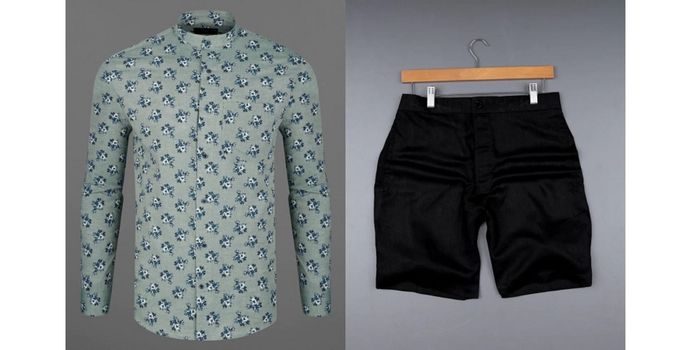 Shorts and a mandarin collar is ideal for boat rides and carefree glances at the beach or pool. Shorts in contrasting colours and rolled-up sleeves create a smart-casual ensemble. Wear a light denim band collar shirt with a rolled hem and sneakers without socks—an excellent appearance for spring and summer. To finish the outfit, choose some casual shoes. The simpler, the less "stuff" there is to wear.
4.Mandarin Collar Shirt With Chinos
Bottoms should be casual; chino, jogger, dark or light denim. Make sure the bottoms you choose stay on top of the outfit. Try a classic pair of chino joggers instead; they go great with a blue band collar shirt. Keep it tucked out, put on your shades, and get ready for a relaxed summer day look.
5.Mandarin Collar Shirt With Suit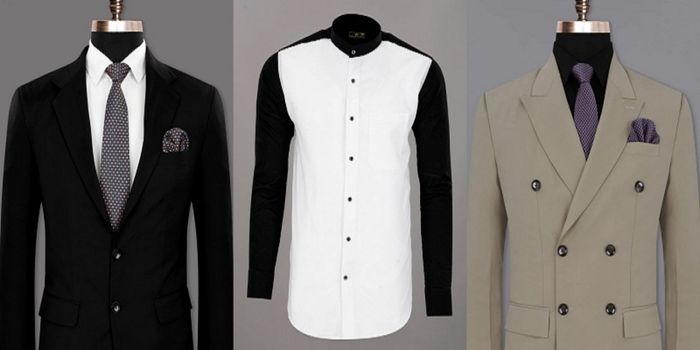 Just because you're wearing a suit that doesn't mean you have to appear or feel stuffy. For a less formal appearance, leave the top two buttons undone and pair your loafers with no socks. A mandarin shirt looks just as well in a suit as any other shirt. However, if you are looking for a formal and more dressy look, definitely go for it. While choosing a suit, make sure to know more about the brand of the suits, colour and does it fit with your mandarin collar shirt.
6.Mandarin Collar Shirt With Tie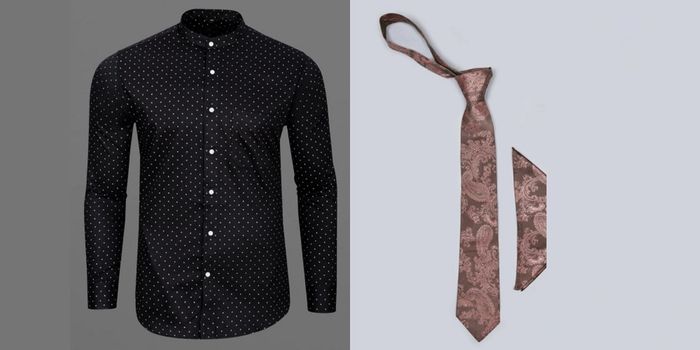 These collars symbolise menswear's gradual but consistent shift towards more informal looks and a blend of casual and formal clothing. Wearing a tie with a band collar is inappropriate. There is nowhere even to nest the tie around your neck. Any tie worn with a shirt with a mandarin collar is a major fashion faux pas.
7.Mandarin Collar Shirt With Leather Jacket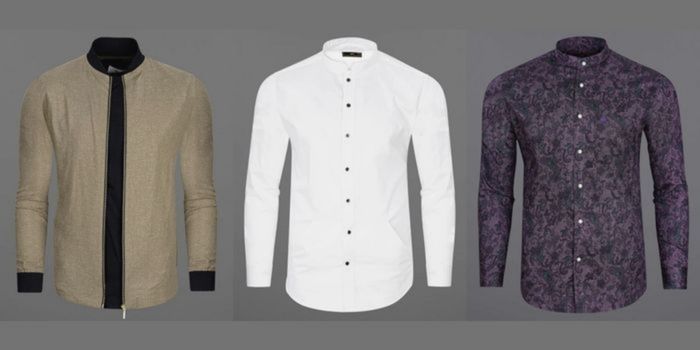 This lightweight summer shirt performs a chic role in adding layers to your outfit during a chilly winter. Select a leather jacket with zip or buttons attached and fit in the mandarin shirt more casually while leaving the top buttons undone. Just the right winter style, no hassle with collars entangled together. The shirt should be shorter than the length of the jacket, and we advise you to keep it tucked out.
8.Mandarin Collar Shirt With Bomber Jacket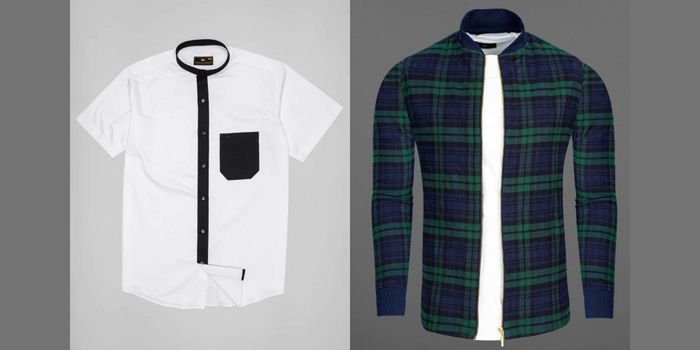 For all the times we thought the Mandarin collar was too formal, we have our response in the form of the casual bomber jacket-mandarin collar shirt combo! The bomber jack and mandarin band collar complement each other, creating a relatively simple look. This one requires very little style work and works for an off-duty weekend appearance and a Casual Friday.
9.Mandarin Collar Shirt With Suspenders
A mandarin collar shirt offers an unusual but trendy substitute. A pair of incredibly comfortable shorts is the ideal option to spice up your mandarin collar shirt casually. Suspenders are a must-have to complete the relaxed ensemble. To achieve a sophisticated workplace style, you can also choose formal slacks and a mandarin shirt with suspenders.
10. Mandarin Collar Shirt With Bow tie
Wear a mandarin collar shirt to match, but no tie. It's a major fashion faux pas to pair any tie with a mandarin collar shirt because they are made to be worn without one. Make sure you select a shirt with a collar that has a gap between the ends proportional to the wings of the bow tie because the bow tie will be in close contact with the shirt's collar. Choose traditional collars ties from the best brand with a medium to narrow gap, including the French, English, club, or broken collar.
Mandarin collars go in perfectly with the laid-back style. For a staked Sunday brunch, wear it with a good pair of jeans and an accompanying jacket. Beyond the basics, add some Mandarin collar shirts with casual checks or skinny stripes to freshen up your outfit. This linen is a perfect fit for this style with its very informal appearance. It blends so well that you'll never have to worry about how to style a band collar shirt. So, go ahead and experiment.
Frequently Asked Questions
Is a mandarin collar the same as a grandad collar?
No, they are pretty different. Despite seeming identical, the mandarin collar—named after the robes worn by mandarins in imperial China—does not connect at the front and lacks a button to close it. The distinctive button closure on a grandad collar differs from a Mandarin's.
Should band collar shirts be tucked in?
We recommend either the French tuck (front is tucked in, back is out) or the Half Tuck (one-half of the front of the shirt is tucked in). Full tucks are also appropriate, but to maintain the casual vibe, make sure your belt and shoes aren't formal. The simpler, the less "stuff" there is to wear while carrying a mandarin collar shirt outfit.
Is a mandarin collar considered intelligent casual?
As versatile as it is, it matches beautifully to get the desired look. You can wear a jacket with a mandarin collar shirt for a bright casual look. Contrarily, you can wear it with shorts or joggers for a more laid-back appearance.